Costa Rica
In 2020 we signed a an agreement with the Costa Rican Government to support their efforts in protecting marine and terrestrial National Parks.  The assets we provide as part of the agreement include our 45m ship, 7.4m Rigid Inflatable Boat, 4.7m Zodiac, Military UAV, and K9 Anti-Poaching Unit.  In many cases our ship serves as a Base-Of-Operations.  It has fully equipped workshop, 10-ton crane, Helicopter / UAV landing pad, and can operate offshore for up to 30 days without support.  We can accomodate up to 25 people on extended voyages, and we usually run with a core crew of around 10 personnel.  The ship has 5 staterooms that accomodate VIPs, or special guests that help fund certain operations.  Our missions in Costa Rica are all joint operations with the MINAE and SINAC units of government.  We provide our services free-of-charge to Costa Rica, relying on donations, sponsorship and VIP guests to support our work.  All offshore patrols are joint operations with local government units that provide personnel for the campaigns. These people have jurisdiction to board, inspect and seize vessels, and also to arrest offending crew. A key asset in these patrols is our UAV can travel up to 100nm from our ship in search of illegal vessels.  UAVs such as the Schiebel S-100 can play a key role in improving apprehension rates.  Generally the UAV is used to gather evidence for prosecution. 
In 2022 we are extending our patrols into all four CMAR MPA countries (Colombia, Ecuador, Panama and Costa Rica). This includes the waters surrounding Cocos Island,. Galapagos Islands, Malpelo Island, and Coiba Island. We will also run a surveillance operation into international waters west of Galapagos.  
Our crew are all volunteers that pay to be on the ship for a period. If you'd like to volunteer, or know more about what is involved, click HERE.
Services Earthrace is Providing to help protect National Parks
* UAV Surveillance of Marine and Terrestrial National Parks
* Joint coastal and offshore patrols targeting fishing in MPAs
* K9 tracking of people operating illegally in National Parks
* Support of Technologies such as Acoustic traps, FLIR, NVG, Radar, UAV operations
* Training on various elements of patrols
Volunteer Crew
All our crew are unpaid volunteers.  They give up a chunk of their lives, in exchange for being part of something very special.  Our team can honestly say the world is a better place with the work that they do.  If you'd like to know more about volunteering for our Costa Rica campaign, click HERE.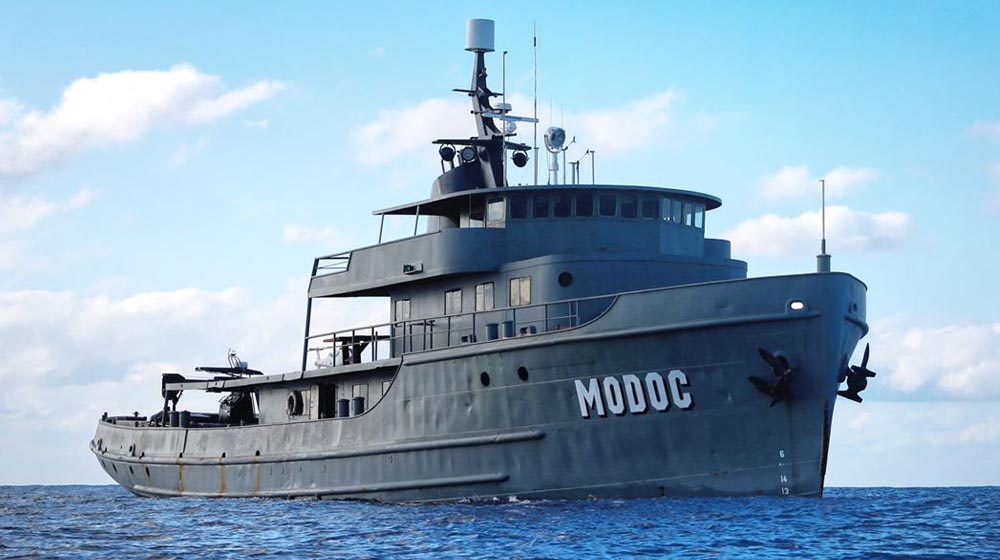 This ship is our base for most of the operations we run in Costa Rica. It can accomodate 25 people, and can operate unassisted offshore for up to 30 days. (more)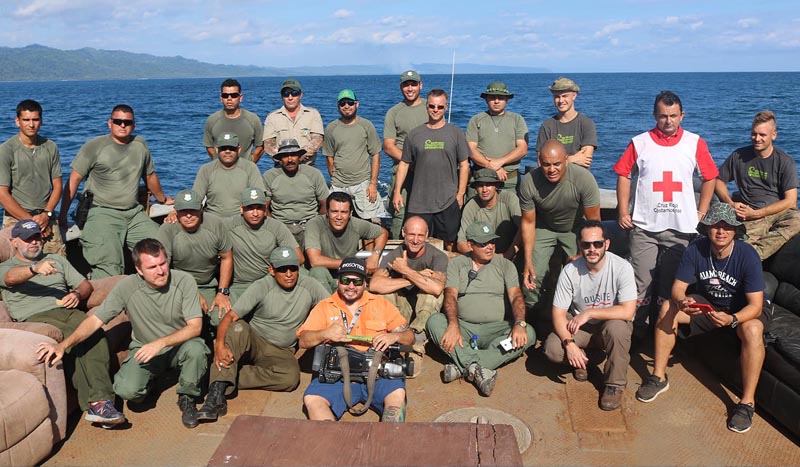 We have a crew of around 10, and up to 15 additional personnel (Rangers, specialists, VIP guests). This image was during deployment to Corcovado National Park in Costa Rica.