For immediate Release. 4th August 2016.
By Earthrace Conservation Organisation
Earthrace today released details of its successful Kickstarter campaign for designing its radical new conservation vessel. Earthrace CEO, Captain Pete Bethune, says the Kickstarter campaign raised just over US$90,000, nearly double what the non-profit organization was aiming for. He says, "With a few days to go it were inching close to the initial goal, but it then shot skywards, and pledges continued to come in via email well after the campaign had officially closed."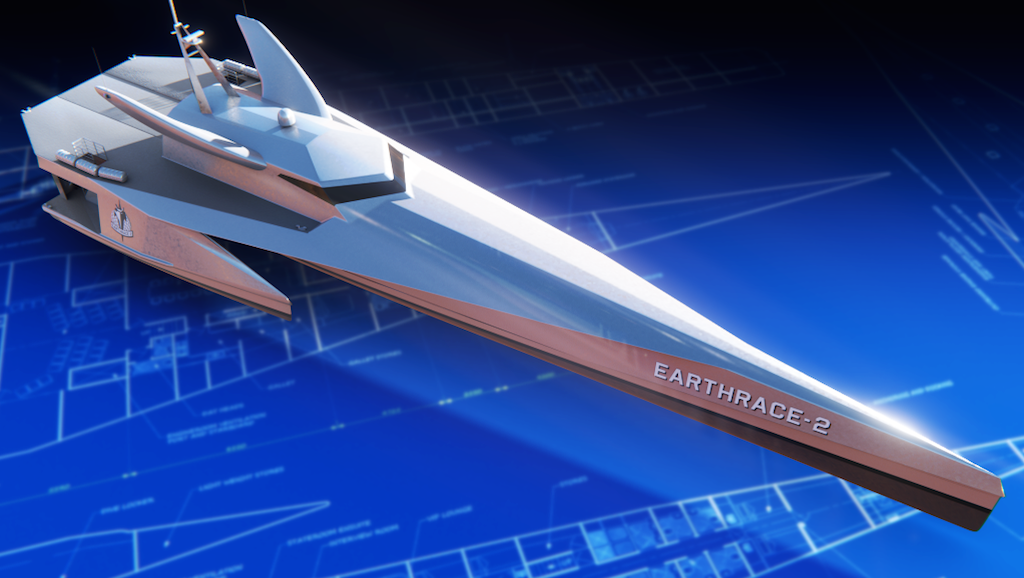 Nearly fifty percent of all pledges were from the US, which Bethune says, "is a reflection of the popularity of the TV show "The Operatives", which has raised the Organizations' profile there." Crowd sourcing has become a legitimate way to secure funding for conservation programs, and Bethune says his team is thrilled to have it successfully completed.
Funds raised are going towards a vessel design that was started early in 2016 by LOMOcean Design in Auckland, New Zealand. Lead Designer Craig Loomes says the vessel brief from Earthrace presented a number of challenges. "The boat is part military and part conservation, and these can be difficult to marry together. As an example, the vessel will be used for interdiction of illegal fishing vessels. This in many ways is a military operation, requiring speed, stealth profiling, and an extensive array of on-board assets such as drones, RIBS and Zodiacs. At the same time, Earthrace is a conservation Organization, and wanted the vessel to be extremely fuel-efficient, and with a low overall footprint."
Design is now well advanced, and Loomes says his team is really happy with where it is headed. Current numbers suggest she will be a 60m (195ft) Trimaran, making her a substantial ocean-going vessel with outstanding range and an ability to run or support maritime operations nearly anywhere on earth. She will carry a crew complement of 16 and up to 10 additional guests. She will also have a 30-person theatre for hosting of School groups and public during outreach tours.
Bethune says the team is also developing a new spinoff TV show to be filmed on the vessel. Currently, Earthrace Conservation has a show, "The Operatives", that sees its team of former military personnel assisting countries with pressing conservation missions.
The team has successfully caught a number of vessels fishing illegally in many areas, including Central America, Asia and Africa. They helped close down two gangs involved in Wildlife smuggling in Asia, and exposed several illegal logging operations in Indonesia. Such missions make for compelling television, and the Earthrace team has started development of a new format to continue tackling conservation issues, but which will see filming largely based on the new vessel.
Earthrace anticipates starting construction early in 2017, and the team is confident of having the vessel launched two years later.
Images
Images below may be used by media and are copyright free.
Hi-Res Rendering of Earthrace-2 (current design)
Hi res CAD drawing of Earthrace-2 (current design) Scaleable pdf
Hi-Res CAD Drawing of Earthrace-2
Background Videos
1) What we do?

2) Earthrace-2 Ship

3) Earthrace History

4) Trailer to Season one of Our TV Show "The Operatives". https://www.youtube.com/watch?v=PIiKpuogudI
For Interviews: Contact Captain Pete Bethune on +1 949-945-8112.
He is on USA Eastern Daylight Time. He can take calls between 7am and 9pm EDT,.