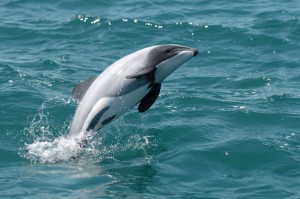 MARINE ACTIVIST, PETE BETHUNE, TELLS NEW ZEALAND GOVERNMENT 'GROW SOME BALLS OR RISK EXTINCTION OF INDIGENOUS DOLPHINS'
New Zealander Pete Bethune, founder of marine activist group Earthrace Conservation, who lost his boat 'Ady Gil' in a collision with Japanese whalers in 2010, has sent a strongly worded message to his Prime Minister John Key, asking him to immediately implement increased protection measures for the last remaining Maui's and Hector's dolphins, indigenous to the country.
There are only an estimated 50 Maui's dolphin remaining, and the population of Hector's dolphins has declined by 75% over the last 40 years.
Despite denials to the contrary by those in the industry, the dolphins' biggest threat is acknowledged by experts to be fisheries by-catch from the use of commercial and recreational set and gill nets and trawling.
Bethune says he has spoken to commercial fishermen who have admitted to 'accidentally' killing multiple Hector's dolphin through by-catch on numerous occasions but not reporting it in order to avoid fines. Fishing is also allegedly regularly happening under the radar within the current small exclusion zone designed to protect Hector's and Maui's.
Other threats include seabed mining, the introduction of tidal energy turbines, disease and recreational pursuits within the boundaries of the dolphins' habitat.
The Ministry of Primary Industries (which includes fisheries) and the Department of Conservation invited interested parties to submit recommendations and comments to inform a review of the Threat Management Plan for the Maui's last year. So many animal welfare, environment, marine conservation and other groups and individuals from all over the world responded that it crashed the DOC website.
As yet, nothing more has been heard about the introduction of additional protection measures since the closing date for submissions in November 2012 and Bethune is demanding answers.
In the letter to the Prime Minister, copied to the Ministers for Primary Industries and Conservation, Bethune accuses the Government of stalling tactics, saying, "I have genuine concerns that the New Zealand Government's real Threat Management Plan is to avoid any confrontation with the fishing industries and continue prevaricating until there are no more Maui's dolphin remaining, perhaps in the hope that once they're gone, the world will simply forget about them. I can promise you, we won't.
A review of the Hector's component of the TMP is scheduled to be undertaken this year. Bethune hopes that things will progress a great deal more speedily than they have for the Maui's or as he warns the Prime Minister, 'you risk global condemnation and irreparable damage to New Zealand's reputation as a leading proponent for the environment. You will find yourself having to explain why a complete lack of action has resulted in the loss of the last remaining Hector's dolphin too.'
In addition to those that took part in the submission process including Bethune and others from Earthrace Conservation, many thousands signed petitions. Renowned US surfer, artist and activist, Peggy Oki, organized the "Let's Face It" Visual Petitions campaign which to date has collected 5,341 photographs of people from across the world including Australia, USA, UK, Canada, Germany, France, Indonesia, Afghanistan, and South Africa, all of whom want action for the Maui's and Hector's dolphins.
Peggy Oki said, "I sent a follow up to my initial submission to DOC and MPI to the Prime Minister before Christmas, anticipating a possible announcement of the new Threat Management Plan just prior to the holidays, with a link to all the visual petitions we'd collected". It now seems the announcement has been postponed indefinitely.
"The NZ government seem unwilling to take any necessary actions to fully protect and prevent the extinction of the critically endangered Maui's and Hector's Dolphins. The dolphins are running out of time but the public can still stand up for them by taking part in Let's Face it. We need to keep the pressure on Prime Minister John Key."
Another petition organised by NABU International – Foundation for Nature collected almost 15,000 signatures.
Bethune, who says he was lucky enough to see a small pod of Maui's whilst on board his vessel, Earthrace in 2006, concludes his letter to John Key by saying, "There has already been one cetacean (Lipotes vexillifer) that has become extinct as a result of human activities. I hold you responsible for ensuring that my country, under your stewardship, avoids the dubious honour of being wholly and directly responsible for the disappearance of the second and third, replacing the Dodo – last seen over 300 years ago- as being synonymous with extinction for generations to come.
"The New Zealand Government must stop prevaricating, grow some balls, stand up to the fishing industries and act now."
Media notes:
• The original TMP was undertaken over five years ago in 2007. It is blatantly apparent to Bethune and others that the measures introduced subsequent to that are not working as the numbers of Maui's dolphin have substantially reduced since then, to the extent that even the Maui's Dolphin Threat Management Plan: Consultation Paper released last year reported that 'most recent research estimates the Maui's dolphin population to be declining at 3 percent per year (with a probability of decline of 75.3 percent)'. (4.1.7 Population trends of Maui's dolphins).
• "Let's Face It" Visual Petition campaign for the Critically Endangered Maui's and Hector's Dolphins of New Zealand: www.lets-face-it-dolphins.com
• News article: "More dead Hector's dolphins found" http://www.odt.co.nz/news/dunedin/239915/more-dead-hectors-dolphins-found
• Peggy Oki is the Founder and Project Director of the Origami Whales Project, and the Whales and Dolphins Ambassador Program that offers the opportunity for children and teens to become educated on anthropogenic (human-caused) threats to cetaceans and their ocean habitats. www.peggy-oki.com/cu_origami.html
Photo Credit: Lis Slooten