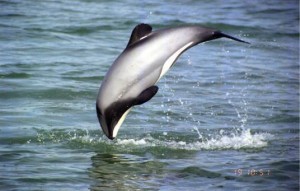 From Earthrace Conservation New Zealand
With the latest emergency measures being put in place by the government to protect the Maui's dolphins, Earthrace Conservation New Zealand believes it is important to keep the awareness of the plight of our 'New Zealand' dolphins at a high. With only 55 Maui's dolphins left the long term protection plan for Maui's dolphins must remain a high priority for the New Zealand government to ensure the successful halt to the drastic decline we are currently seeing.
With a number of global conservation group, including Earthrace, voicing public concern for the lack of action by the current New Zealand government Earthrace Conservation New Zealand has organised a national Maui's and Hector's info flyer handout calling for the public to voice their alarm to the Minister of Conservation, Kate Wilkinson.
Volunteers will be on the street this Saturday (28 July) between 11am and 1pm at a number of locations throughout the country calling on the public to get involved before it is too late and the most endangered dolphin species in the world is consigned to history. As well as this nationwide initiative Earthrace volunteers in America, Australia, South Africa and the UK will also be involved in the 'Help Save the New Zealand Dolphin' flyer handout as they understand this is of global importance.
Earthrace Conservation New Zealand National Director, Scott Bowman, commented, "With the IWC recently urging New Zealand to take immediate action to prevent the extinction of the Maui's dolphin it is important for our government to recognize that this issue is of global significance and the eyes of the world are upon us. Time for talk is over; the time to act is now."
Continued efforts from so many passionate individuals and conservation groups will ensure that the government follows through and produces a long term plan for the survival of both the Maui's and the Hector's dolphins. A positive balance between conservation and responsible fishing practices will increase the chances of saving them from extinction.