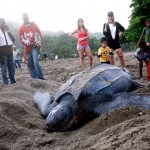 As reported by the Trini Eco Warriors, Trinidadians like a pissup (party). And rightly so of course. But sadly, they have this yearly party (called a fete) that happens on a known leatherback nesting beach, and it happens in the middle of nesting season.
Here is the problem. Drunken teens will climb all over the turtles as they lumber up the beach to lay their eggs. I don't really know about the efforts turtles go to to lay eggs, but judging on the birth of my own kids, birth of any kind is probably not a time you want drunken teens slobbering all over ya. The lights and vibrating music will put off many turtles to approach the beach. And the vehicles, equipment and people all over the area will squash nests that have already been lain.
All up this fete on such a pristine nesting beach is a dumb idea.
So we are kindly asking the government of Trinidad and Tobago to take one of 3 options.
1) to shift the Fete to another location that is not a leatherback nesting beach
2) to postpone the fete until nesting has finished and the new hatchlings are safely out to sea
3) to cancel the fete.
That this event has run for some time is no excuse. It is time for Trinidad to stand up and take ownership of turtles. Trinidad I believe is the long term number one tourist destination for peeps who love turtles. But Trinidad cannot claim this while they allow hundreds of fornicating teenagers in their four wheel drives to trample over nests and hassle pregnant females.
Please email both ministers below and express your opinion in a polite way.
Minister for the Environment Dr Roodal Moonilal: Roodal.moonilal@mhe.gov.tt
and just so we are clear, I have no problem with drunken teens fornicating on beaches. Or the loud music or 4WDs for that matter. I just don;t think it acceptable to have them on a beach where an endangered species nests.