RESCUE UPDATE:  A massive rescue effort was underway yesterday in New Zealand where 400 Pilot whales have beached themselves.  500 Volunteers turned up to find around 300 whales already dead.  Of those that survived, around 50 were re-floated on yesterday's high tide, however tragically, these beached themselves again last night.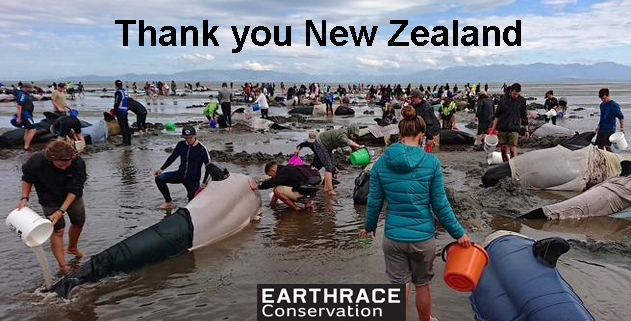 In a move that will be widely criticized,  The Department of Conservation last night banned anyone from working on the beach until daybreak because of safety concerns, so the whales have been left unattended overnight.  A large number of Volunteers remain in the area and will be down at first light to reassess things, and hopefully make a concerted effort to re-float the few survivors and guide them to safety.

Rescue Organizations have been critical of DOC for their slowness in reacting to the tragedy.  In whale stranding, time is always of the essence.  In this case it would appear considerable time passed before the alert was raised by DOC.  It is a credit to the Volunteers that so many people did turn up when asked, to what is a very remote area.
It should be noted here that whale stranding at Farewell Spit in New Zealand are not new.  It has claimed more whale lives than any other part of New Zealand.  Although this is New Zealand's 3rd largest whale stranding in history.
There was a report just after midnight that only a handful of whales now remain alive.  We will post an update as soon as we have it after daybreak.  Thanks to everyone who has Volunteered to help out with this.