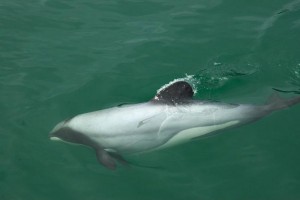 "I have never been more ashamed to be a kiwi", said Pete Bethune, founder of Earthrace Conservation, on hearing that the Ministry for Primary Industries had pressured New Zealand's Head of Delegation to the IUCN, Andrew Bignell, to go against a motion to increase protection for Maui's dolphins at the recent World Conservation Congress.
New Zealand was the only delegation to vote against the motion, despite the New Zealand Department of Conservation (DOC) classifying Maui's as "Nationally Critical".
Bethune, whose organisation has been supporting New Zealand and global campaigns to save the Maui's dolphins from extinction, continued, "The IUCN recommendations were well thought out, as were the recommendations for protective measures including banning gill nets, put forward by the International Whaling Confederation back in July.
"On both occasions, the New Zealand representatives have said they are already taking action, but blatantly obviously, whatever they think they are already doing, it's too little, too late. The measures that could significantly help to stop this species from becoming extinct in our lifetime are being put on the back burner because of direct pressure from the fishing industries.
"These are the industries that have a vested interest in keeping our oceans and everything in them healthy and thriving. Instead, they are sounding the death-knoll for the world's smallest dolphin in their own backyard. It is despicable. The New Zealand Government needs to man up."
Scott Bowman, Director of Earthrace Conservation NZ said, "The vote was a disgrace and goes against the scientific evidence supplied by Liz Slooten and other independent scientists. The fact that New Zealand has ignored the IWC recommendations laid out from the July meeting in Panama, and the same recommendations at the IUCN World Congress, shows they are not willing to listen or act on globally endorsed facts.
"This is yet another occasion when this Government is totally ignoring public opinion, whilst cosying up to commercial interests. Aside from believing the public deserve greater transparency around how many politicians have a financial interest in our fishing operations, it shows how much the Government has lost touch with the ordinary voter. New Zealand – 100% pure? More like 99% bullshit."