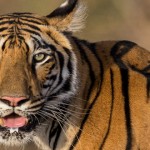 There is a global problem of many species being pushed to the brink of extinction. These include rhinos, tigers, primates, turtles, pangolins, reptiles, and manta rays. Wildlife is under siege, and one of the main causes is China and its insatiable demand for rare and exotic animals.
While filming The Operatives in SE Asia Pete Bethune and his team encountered many instances of smuggling and illegal activity involving endangered species, due to the lucrative trade to China.
Bethune says "there is this underground trade in wildlife, these animals are all harvested from the wild, sold to middle men and sent to China and other countries through Asia. The animals they harvest are often treated barbarically, some are shipped live. Many of these animals are critically endangered and the industry is a disgrace."
It needn't be like this. China is a signatory to the Convention in Trade of Endangered Species. This obligates the country to eliminate all trade in animals listed as endangered or critically endangered. Despite this, the trade continues almost unabated and in many cases is increasing.
The real problem is massive demand. Walk into any traditional medicine store in China, and within seconds you'll see endangered species and their parts openly for sale. Similarly, pet shops, jewelry stores, and restaurants openly sell protected wildlife or products derived from them. The reality is that China does virtually nothing to stop this trade, despite its obligations under CITES.
So many species have gone extinct because of China. It cannot continue like this. It is time for China to clamp down on this trade by actively investigating and prosecuting all people and companies involved in the importation, distribution, and sale of endangered wildlife.
Earthrace Conservation and www.takepart.com have a petition which has already over 25,000 signatures with a goal of 30,000 to be presented to the Government of the People's Republic of China.
ENDS