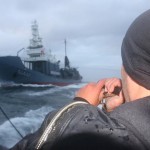 The recent escalation of legal action against Sea Shepherd heralds a definite shift in tactics by governments against activists, and it perhaps has implications for many groups involved in protest initiatives where boundaries are pushed.
Firstly, there is no question that Sea Shepherd has set a benchmark for aggressive tactics to get their message across, and to intervene in cases of what many perceive as illegal activities.  Whale Wars has also been a hit show now in its 5th season, and it has done an enormous amount to promote the issue of Japanese whaling.  But recent legal action perhaps signals that such actions may be heavily punished in the future.
It started with the company Fish and Fish, who claim they had purchased legal blue fin tuna and were transporting them back to Malta.  Crew on the Steve Irwin thought the fish were caught illegally (yet to be tested in court), and cut the nets letting the tuna escape.   Fish and Fish have since taken considerable and expensive legal action against Sea Shepherd.  In a recent victory for the Defendants, the Judge ruled UK courts have no jurisdiction over the case, which sees the Maltese company now reconsidering their options.  It highlights the fact that legal action against a nebulous organisation like Sea Shepherd, with multiple entities and vessels registered in various countries, can be extremely difficult.  For a company such as Fish and Fish, I suspect the legal bills will become too great for them.  For governments however, it is a different matter.
Take what happened in Guatemala back in 2002.  Sea Shepherd intervened against an alleged Costa Rican shark-finning vessel in Guatemalan waters.  Now here is where it gets murky.  Sea Shepherd claims they were asked by Guatemalan authorities to get the vessel and bring it to port.  There is a question mark over this claim, with the Costa Ricans adamant Guatemalan authorities never gave such an order.  In which case Sea Shepherd has limited powers to intervene.  Knowing Paul, and its one of his qualities many people admire, he'd have got stuck into them regardless of the authority.  Either way, when a local naval vessel was sent out to escort both vessels into port to get to the bottom of things, Sea Shepherd quickly left.
Well for many years, it has been possible to undertake such acts on the high seas, or in this case, in territorial waters, and get away with it.  But the Costa Rican's for whatever reason, decided to not let this one go.   In 2006 they had a hearing at which Watson was requested to appear to present what had happened.  Of course he never showed, and so Costa Rica issued an arrest warrant for him.  Then late last year, they finally got around to issuing an international arrest warrant, and he was subsequently detained a few months back in Germany, awaiting extradition.
There has been much speculation as to why they issued the arrest warrant so long after the event.  There are several points to consider.  The statute of limitation means prosecution must be started by 2013.  So if they were going to proceed, they needed him in Costa Rica soon.  Also, remember this is Costa Rica, where legal process can be slow.  It took them 4 years just to get around to the investigative hearing, and another 5 years to get the international arrest warrant done.  But in many countries, such delays are not out of the ordinary.
Whatever the reason, Watson found himself in Germany and with a possible free trip to Latin America on the cards.  Many thought that the extradition would be refused.  Watson did not attend the 2006 investigative hearing, and so the evidence his arrest warrant was based on would be from one parties (Costa Rican) perspective only.  The burden of proof in extradition cases is generally very high, and so the German's would not give up Watson easily unless there was a strong case to be answered.
Even if Paul did go to Costa Rica, his crimes, if there were any, were not massive.  Maybe he did ram a vessel or hose some fishermen down as alleged by the Costa Rican's, but it'd probably see him released based on time-served once the court case was heard.  It would mean Paul would be locked up in a remand facility for a period, and while that is harsh, it would at least see Watson walk out with the slate clean.  There were claims of Watson's impending death in Costa Rica based on some $25,000 bounty (locals just laughed at this suggestion), but the general feeling in Costa Rica was the trial would be expedited and held above board with all the media and political attention the case would garner.
So Costa Rica was a problem with solutions, not all of them appealing for Watson, but certainly manageable for a man who has been on the front line of animal rights for the last 30 years.  Then he gets word of Japan's latest initiative to get him captured.   On July 19th, they issued an international arrest warrant also seeking Watson's extradition.
One thing I know.  If Watson ends up in Japan, he is fucked.  I spent 5 months locked up in Japan, and yet my crimes were relatively minor.  If Paul is taken there, his case will drag on for many years.  At 62 years old he may well spend the rest of his life behind bars.  It is important here to understand the difference between the Japanese judicial system and most others.  Their entire system is based on confessions.  If they have sufficient evidence, you can agree to the charges and you get an expedited court case, which in my instance was about 5 months.  Or you can say nothing (nobody talks, everybody walks), and if they have some evidence against you, then the court case can drag on almost indefinitely.  Lawyers suggested if I disputed my 5 charges, the case would drag out for over 2 years, and take upwards of $2m in legal fees.  For Watson, well the sky will be the limit.
So it is understandable why Watson saw the need to skip the country, forgoing 250,000 Euro in bail money, and becoming an international fugitive in the process.  There have been suggestions it was my testimony that sees this renewed Japanese assault on Watson, however the fact is they have mountains of evidence against him.  It is no secret that Watson is the head of Sea Shepherd, the Captain of the Steve Irwin, and he has been battling the Japanese for many years in Antarctica.  For the last two years, Japanese Coastguard has been aboard the whaling vessels, not to ramp up aggression as often suggested, but to gather evidence.  Paul regularly orders prop fouling, lasers, spud guns and other activities that has seen the annual Japanese whale kill reduce from around 750 a few years ago, to just a few hundred recently.  He has been their nemesis, and it looks like Japan has perhaps finally figured out how to stop the one man who consistently stood in their way.
It is fair to say that Paul and I don't see eye-to-eye on a few things.  But I don't believe he belongs in prison in Japan.  He has been fighting for wildlife for 30 years, and has done a lot of good in many areas, and it would be a sad end to see him sit out his days in a remand prison on a communications ban.
As alluded to at the start, this new action against Watson may make it very difficult for aggressive actions by Activists in the future. If governments are determined, they can apply almost infinite resource to extradition and prosecution proceedings, and in so doing, stamp out all but the most passive of international protest action.  Some of course would argue this is at it should be.  Either way, there is a shift happening now, and Watson finds himself in the middle of it.
I know many will disagree with my analysis.  But there are multiple sides to this issue, and perhaps the truth lies somewhere between what different parties are claiming. I've just tried to figure it out as best I can.  I've been through the legal systems in both Japan and Guatemala, I've spent considerable time in Costa Rica, and I was on Operation Waltzing Matilda in Antarctica.  I am no expert, and I don't claim to be, but I do bring a little background when looking at this.